ATHLETICS TRAINER
In 1972, after the end of his competitive athletics career, Barris attended one of the national courses for sports trainers organized by the INEF in Madrid, where he was awarded a National Trainers 1st Class Certificate. He had previously attended a course for Sports Center Monitors, organized by the National Sports Training Organization (INEF) in Esplugues de Llobregat (Barcelona) which authorized him to give sports classes in schools.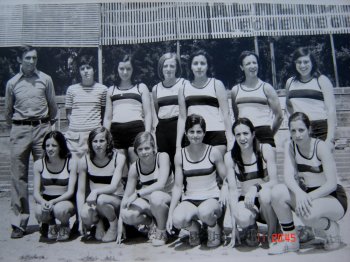 He began his training career in the leading national athletics school C. A. Laietània in Mataró, where he worked for 8 years doing an excellent job of recruiting and training young athletes from various schools. This small group grew larger and eventually Barris found himself in charge of technical management there.
Initially under the presidency of Antonio Bonamusa and later Manuel Corredó, Barris continued his exhaustive and positive work putting the centre back in the forefront of athletics, where it had once belonged. The collaboration of Buenaventura Brunet and a whole group of managers, all authentic sports  enthusiasts, was one of the essential pillars upon which Barris built in his task of re-establishing the centre among the elite of Catalan athletics.
For the first time, a women's team was created, headed by Mercè Boixet and Maria Teresa Roca, among others. This would soon achieve a high level within Catalan Women's Athletics. An athletics school was also set up,  from which emerged a great number of young athletes who would soon reach notable levels of achievement in Catalonia and Spain.
Today, the C. A. Laietània, under the presidency of Jordi Buscà, who took over the baton from those romantics of Spanish athletics, is one of the most solid and emblematic sports entities in Catalonia.
 
Football trainer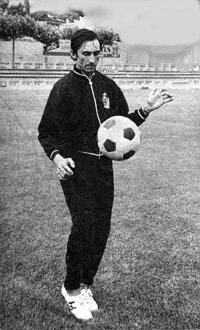 Among athletics fans, perhaps one of the least known facets of Barris's career was his radical change of sport when he made a successful incursion into the world of football.
After passing the juvenile and regional trainers' exams, Barris went through the selection process and won a place on the National Course held by 
INEF in Madrid in 1973, where he obtained a certificate enabling him to train teams at all levels up to the current 1st Division in the Spanish league. Some of his companions on the course were ex-footballers like: Luís Aragonés, Paco Gento and Luís Costa among others.
For ten straight years, thanks to his charisma and his prestige as a historic athlete (of considerable influence when it came to signing contracts), he  did some excellent work as the manager of some of the most historic clubs in Catalonia. His greatest success was when he led his C.D Hospitalet team out against U.D Salamanca in a promotion play off for a place in the 2nd Division. Two dramatic draws led to a third replay in the neutral ground of Gaunas from Logroño. Barris' team lost 2-1 in the final minute of the match.
Teams he trained:
| | |
| --- | --- |
| * C.D. Mataró | 2 Seasons |
| * C.D. Hospitalet | 4 Seasons |
| * C.D. Badalona | 1 Season |
| * C.D. Europa | 1 Season |
| * C.D. La Cava | 1 Season |
| * C.D. Santboiá | 1 Season |
Trainer in other sports
Basketball
Barris always knew how to take advantage of his proud athletics career and his contacts in the sporting world.  At the request of the coach of the national basketball team Antonio Díaz Miguel and with the blessing of the President of the Spanish Basketball Federation, Raimundo Saporta, Barris accepted a contract to take charge of the physical training program for the Spanish team. This was at the time of the World Games in Yugoslavia and the Mexico Olympics in 1968, where Spain achieved the most medals in its history up to that time. Santillana, Buscató, Alfonso Martínez, Margall and Codina among others, remember very well the positive benefits they drew from the system that Barris adapted to basketball from his athletics background.
Rugby
Barris was also a physical preparation coach in this model team sport at the request of the manager of the national side, Sr. Griñó. He was responsible for the preparation of C.D Universitario (Barcelona) in its golden age, when it achieved, for the first and only time in its history, the title of Spanish Champion in this sport.