MISCELLANY
Before running in his first official race, and even before he was thirteen, Barris was a keen participant in local unofficial races held in the streets of Barcelona during the annual street festivals in each district known as Festes Majors. He used to train around the Plaça del Pi, Carrer Petritxol, Carrer Portaferrisa, Carrer del Pi and Plaça de San Josep Oriol in a perimeter of approximately 700 meters in the heart of the Gothic district of the city. His method of judging his improvement was to say the more laps I can do the better I am getting. This is where his athletic career really began.
Apart from the achievements mentioned in other sections, Tomàs Barris also had other major accomplishments within Catalan athletics. He formed part of the C. D. Hispano-Francés, R.C.D. Espanyol and F.C. Barcelona athletic teams. He spent a year as the trainer of R.C.D. Espanyol until the athletics section was disbanded, and he was in C.A. Laietània in Mataró for some eight years.
He was chosen on various occasions to represent the Catalan Athletics Federation in inter regional and international events. His first performance being a meet held in the Italian city of Genoa, against a team from Liguria, in 1950. He competed in the 1500m.
He participated in all the cross country and street races that formed part of the traditional Catalan calendar, a list of which would be interminable. He was Catalan champion and record holder in the Junior Category at 800 and 1500 meters. He was also absolute champion of Barcelona and Catalonia for the 800 meters, in the years 1951/52/55/56/58/60/62 and 64; and the 1500 meters in the years 1952/54/55/56/61/62 and 64, held in different places around Catalonia.
Among many milestones that Barris established for Spanish athletics, is the fact that he introduced into Spain the Interval Training System, a particular form of circuit training. Although something similar was being practiced in the country at the time, the meticulousness needed to practice this new system was totally unknown in Spain. His experience, over several years, with this type of work out, gained alongside its developers, Woldemar Gerschler and Doctor Reindall in Freiburg, led to him helping introduce the method into Spain via talks and lectures to Spanish trainers and athletes.
Despite his wide ranging career, Barris only performed once at an indoor event. This was at the inauguration of the Palacio de Deportes in Madrid in 1960, running in the 1000 meters, which he won, establishing the first official Spanish record with a time of 2'29"2. This race, organized by the Spanish Athletics Federation, was run around the perimeter of the wooden cycling track. It is worth pointing out that all of the athletes taking part wore classic rubber soled pumps (tennis shoes) without any studs or any other aid to adherence on the track.
In those days there were no synthetic indoor tracks in Spain. Indoor running was practically unknown in the country. There were no national championships nor anything like them, only the occasional experimental run, such as that forming part of the Catalan Championships run on a cement track. These were held in one of the Pavilions which now form part of the Barcelona trade Fair site, having a perimeter of barely 150 meters. The track was flat, without banks and with some unusually tight bends surrounded by columns on all sides. However, it was a start!
Tomàs Barris's presentation in Scandinavia, was another historic event in the annals of Spanish athletics. it was in the Swedish city of Gothenburg, on the 4th July 1957. Against all prognostics, Barris beat the best Nordic specialists in the 2000 meters, becoming the first Spanish athlete to win a high level international outdoor meeting.
His 1500 meters record of 3'41"7 achieved in the Finnish city of Turku in 1958, meant that he was the Spanish athlete who had come closest to ever breaking a world record on an outdoor track, in fact it would have been the record 3 years previously. He would hold that position for 27 years until José Luís González, in 1985 would break the Spanish record with a time of 3'30"92 which 2 years previously would have been a world record. Today, at the beginning of the 21st century and some 45 years after that memorable record in Turku, Barris is still the number two Spaniard in this singular ranking, sharing that spot with J. M. Abascal and Antonio Campos.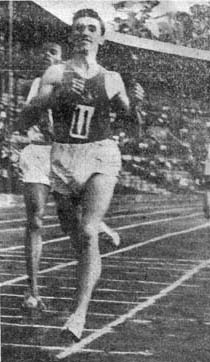 Tomàs Barris opened the doors of Europe for many Spanish athletes who competed alongside him in some of the most famous stadiums in the continent such as Pep Molins, Antonio Amorós, Carlos Pérez, Manuel Augusto Alonso, José Luis Martínez, Luis Felipe Areta, José Luis Albarrán, Sergio Vázquez, Luis Mª Garriga, José Mª Isasa, Cesareo Marín, Francisco Celaraín, Atilano Amigó, among many others. All of them champions, or Spanish record holders, who knew how to make the best of the opportunity to prove their great athletic prowess. It can truly be said that it was from this moment that Spanish athletics began to boom on the international stage.
Although Barris was never able to beat the 50 seconds barrier in the 400 meters, he did manage, however, to compensate for his lack of sprinting ability by his stamina; establishing the Spanish Record at 800 meters with a time of 1'48"7, thanks to his tough rhythm and his staying power; qualities which he always demonstrated so powerfully in the second half of this race admittedly difficult even for much faster athletes than himself.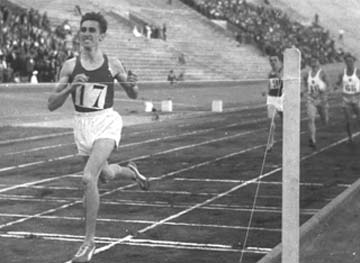 One of the least known records of Tomàs Barris, although perhaps it would be better to say "best times" was the time he achieved in the 800 meters of 1'50"3 in Mainz on the 26th June 1963 or the same time achieved in Madrid on the 7th June 1964 which confirmed him as the best world athlete older than 33 and 34 respectively. That time remained in force until 1971 when the New Zealander George Scott beat it with a 1'49"8. At thirty-two, Barris also established the best European time in the 800m with a 1'49''8 achieved in Bordeaux on the 22nd July 1962 and which remained in force until 1965 when R. Tutin beat it with a 1'49''6.
He still holds another middle distance accomplishment within Spanish athletics: he is still the athlete who beat a Spanish record by the greatest margin in this specialty. In 1954, Manuel Macías had established a record of 1'54"5 for the 800 meters. Barris would reduce this to 1'48"7 in 1959, beating it by a clear 5 seconds and 8 tenths of a second. He did a similar thing with the 1500 meter record of 3'54"5 also held by Macías since 1954, and which Barris lowered by 12 seconds and 8 tenths of a second to a time of 3'41"7 in 1958.
Tomàs Barris was able to achieve his intense athletic activity thanks to the facilities he was always given access to by the Provincial Government of Barcelona, of which he was a civil servant. Posted to the National Library of Catalonia, he was in charge of the Industrial Technical Services Section, to which he devoted all his time after retiring from competition.
In the course of his frequent European tours, Barris had the opportunity to live side by side with athletes and trainers from different nationalities, in the most important sports schools. Freiburg, Ruit, Jonville, Verömekki, Volodalen, among others represented opportunities that he knew how to make the best of in learning about different preparation systems which he always adapted to fit in with the Freiburg School's Interval-Training and which he later passed on to Spanish athletics.
For the importance it would have in Europe, his most important victory was achieved in Madrid in May 1957 when against all odds he managed to achieve the only Spanish victory at the Spain-Germany meet on the track of the University of Madrid. To do this he had to beat the ex-world record holder Werner Luegg in the 1500 meters. This triumph had considerable repercussions throughout Spain, opening the doors of many famous stadiums to him.

His greatest frustration as a sportsman was his participation in the Rome Olympic Games of 1960 where he had one of the worst performances of his athletic career. An injury to his Achilles tendon during one of his Nordic performances caused him to interrupt his Olympic preparation. When he thought he had gotten over it, the injury flared again 900 meters into the race, which he finished in dreadful conditions.
Barris' mastery, in Spain. of his favourite distance, the 1500 meters, was so pronounced that it represented a landmark that still has not been passed by any subsequent Spanish athlete. For ten straight years, from 1955 to 1965, no Hispanic athlete could beat him at that emblematic distance. It was not until the Spanish Championships of the 18th July 1965, held in Madrid in the Vallehermoso Stadium that he would lose his hard won invincibility; being beaten in the final of the 1500 meters by the athlete from Guipuzcoa Aguilar and the Madrid athlete Morera. It would lead to his definitive retirement from athletics. An era had ended and he knew it was time to make way for a new generation of Spanish athletes. He retired still holding the Spanish records for all the middle distances from 800 to 3000 meters.

Once he had retired from competition, Barris was asked, by the Spanish Athletics Federation, to captain the Spanish team at a meet against Turkey in Istanbul. It was the wish of the Federation that Barris's departure from the scene should reflect the importance of his career. In an act celebrated in the Spanish Embassy in the Turkish capital, Barris received from the hands of the President of the Federation and the Ambassador himself, certain awards which commemorated his athletic career.

Records are made to be broken and Tomàs Barris' records were no exception. His successor was a young athlete from Aragon called Alberto Esteban, who had been Barris' toughest rival in the last years of his athletic career. He was a worthy successor, to Barris, whose Spanish records had stood for years. The first of Esteban's records was the 800 metres which he set in Paris in 1.966, with a time of 1'48''0. Then later, in Stockholm, in 1.968, he set a time of 3'41''3 for the 1.500 metres, in the same Olympic Stadium where Tomàs Barris had sealed his international reputation with important victories and Spanish records in the nineteen-fifties.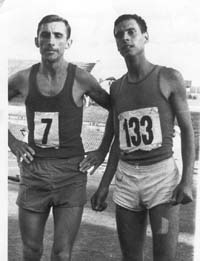 Once his competitive days were over, Barris married Mila, the daughter of the then trainer of R.C.D. Espanyol of Barcelona, Manel Cutié. The couple would later have 4 children: Anna, Marta, Josep Mª and Víctor.
In the course of his continual athletics tours, Barris was forced to use an airplane 512 times, running up a total of 1003 flight hours, experiencing many incidents and anecdotes he would not recommend to anyone. He freely admits to feeling an absolute terror at the thought of having to fly, but it was either that or stay at home...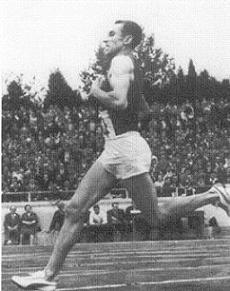 For 5 years, Tomàs Barris occupied the position of Vice-President of the Catalonian Athletics Federation under the presidency of Romà Cuyás in his first period of government. Once the elections were won for the second stage, showing to be very promising in order to complete the organisation of the Catalonian athletics, Tomàs Barris had no choice but to resign due to a disagreement about his personal way of running this second stage which, from his view point should have been handled in a different way.
Personal preferences
· Spanish Sports Personality most universal XX Century: Juan A. Samaranch.
· International male athlete he most admires: Herbet Elliott.
· International female athlete he most admires: F. Blankers-Koen.
· Most complete middle distance Spanish male athlete: José Luís González.
· Most complete middle distance female Spanish athlete: Maite Zúniga.
· Best Spanish male athlete of all time: Fermín Cacho.
· Best Spanish female athlete of all time: Carmen Valero & Marta Domínguez.
· The most difficult Spanish athlete to beat: Alberto Esteban.
· Best Spanish marathon runners: Abel Antón & Martín Fiz.
· Best Spanish cross country male runner: Mariano Haro.
· Best Spanish cross country female runner: Carmen Valero.
· Best male athlete for the walk: Ángel Jesús García Bragado.
· Best female athletes for the walk: Mari Cruz Díaz and María Vasco.
· Best sporting memory: The Rome Olympics of 1960.
· His best friends: Pep Molins and Antonio Sabugueiro.
· His favourite club: C. A. Laietània of Mataró.
· His best athletics victory: the 1500 m. in the Spain-Germany meet in Madrid.
· People who helped him in his early days: Gerardo García and José Mir.
· His favourite trainers: Manel Cutié, Olli Virho and Woldemar Gerschler.
· The best Spanish middle distance trainer: Gregorio Rojo.
· Best statistics for any Spanish athlete of the 20th Century: José Mª García.
· His favourite city (after Barcelona): London.