CROSS COUNTRY COMPETITION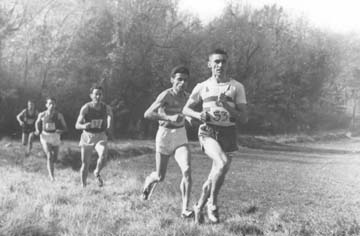 Although he was no specialist in this field, Barris came to be considered as one of the best Spanish cross country runners, even representing Spain in the famous "CROS DE LAS NACIONES", now known as the World Cross Country Championships.
He took part in the most important events in this field on the Spanish and Catalan calendars, with notable success. On several occasions he was selected to represent the Spanish and Catalan teams in international events.
These events, apart from offering the great personal satisfaction of running across country, represented one of the essential elements of winter training for the coming summer season on the track. It was on cross country runs that he built up the strength and stamina that middle distance running requires.
Achievements
R

epresented Spain in the "Cros de las Naciones" in Lisbon in 1959, Nantes in 1961 and San Sebastian in 1963.

 Runner up in the Spanish Cross Country championships in Fadura (Bilbao) in 1961.

C

hampion of Catalonia in 1959/60/62.

W

inner of the Barcelona Championships in 1955/56/57/58/59.

R

unner up in the European teams championships in Arlón (Belgium) in 1963 and Pontyvi (France) in 1964 with F. C. Barcelona.